The innovative farm game My Free Farm

My Free Farm – fascination farm game
My Free Farm transports its players into a nature setting. On the farm, they cultivate plants, water and harvest them. They tend to their animals, produce eggs and honey, breed fish, and will even have their own sawmill later in the game. My Free Farm offers a truly fascinating gaming experience.
---
My Free Farm
Your own farm as playground
My Free Farm did it first. Browser-based farm games don't just work; they seem to have been made for online-based gaming!
A boom for farm games
Ever since the success of a certain farm simulation, it has become evident that farm games are an integral part of web-based gaming culture.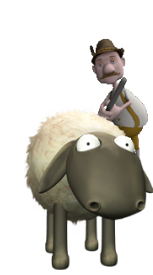 Upjers' farm game convinces
The number of farm games may have increased, but My Free Farm is still one of the top games of this young genre. A huge fan base, events on a regular base and additional content made the game popular and convinced many formerly skeptic gamers. Indeed, when it comes down to the field of farm games, Upjers play in the first league: The classic game Molehill Empire, after all, is also based on the principle of playful cultivating of fields – in this case, gardens.
Always one harvest ahead
All of these strengths combined have made My Free Farm an all-time favorite of this genre. With their very own farmhouse, successful farm owners are able to fulfill their own dream of an idyllic rural retreat. Here, players can design their farms individually, and invite their friends to stop by.
Play other browser games on en.upjers.com now!
Play MyFreeFarm, the first online farm game
Completely free, no downloads, no installation!
Play for free: Upjers browser games
Bamberg-based company Upjers has been developing browser games since 2006. These are free-to-play online games, playable in any browser. By now, browser games are enjoyed by millions of players worldwide. The genre encompasses a variety of topics, from farm simulations to zoo games.
More about the farm game My Free Farm
Profit from other players' experience, and stop by on our forums!