My Free Farm – Experience free internet games

My Free Farm - internet games in the countryside
Bleating sheep, clucking chicken, it´s simply a joy. The funny browser game My Free Farm lets players run their own farm. With every level-up, they will discover new features and master exciting challenges. Experience a unique browser game! Do you also know the zoo game My Free Zoo?
---
My Free Farm
New features for online players
My Free Farm offers a bunch of new features which have never before been seen in internet games.
Intuitive gaming experience
My Free Farm skillfully adapts tried and trusted ideas for internet games, and thus makes it easier for experienced players to get started.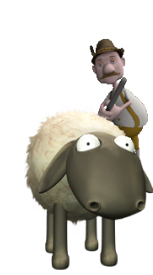 Your own internet farm
My Free Farm was developed with the idea of a browser-based economy simulation set on a farm in mind. Up until then, internet games had been reduced to the crunching of numbers, or action. The multifaceted and challenging day-to-day life of a farmer makes the web come alive with colorful graphics and atmospheric sounds. Internet games such as MyFreeFarm reward users with visual feedback for almost anything they do.
A beastly fun internet game
Needless to say, an internet gamer also tends to the animals on their farm. Once the stable is built and the cash flows, additional cows, or sheep are not a problem. Keep in mind to have always have a good stock of the required fodder plants. It's details such as these that set My Free Farm different apart from other internet games.
You can find more Upjers games here...
Internet games for animal lovers. Cows are holy here!
Play web based, for free and without any downloads
Play for free with Upjers
Game developers Upjers have been developing browser games since 2006. The funny online games require only a browser to be played – no downloads or installations necessary. On top of that, browser games enable thousands of players to interact.
Internet games – tips, tricks and news
Find what you need to know about My Free Farm on the game's forum.