Enjoy My Free Farm and other games worry-free

My Free Farm – play for free on the farm
The browser game My Free Farm transports its players into the countryside. Here, players run their own farms and discover all features the farm simulation comes with step by step. The game's concept and the possibility to communicate with other players provide lasting fun! If you like zoo browser games, you might also like My-Free-Zoo.
---
My Free Farm
We play for free!
Millions of registered users play My Free Farm on a daily base. No fees arise, as our game is completely free.
Play forever...
Signing up may be required, but offers only advantages. Everyone is able to play for free, whereas premium features are optional.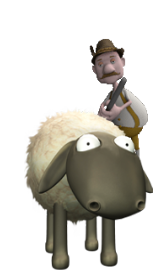 No obligations, no subscriptions
Premium features are optional. My Free Farm can be experienced completely free, and even the farm simulation´s basic version offers its users quite a lot. The beauty of it all: all premium features can be regarded as extras, thus making the game even more interesting and entertaining than free games. Needless to say, it's not possible to activate charged features by accident.
Play for free or try premium?
With a mere 40 Coins, you can upgrade your account to premium status. There are a variety of different payment methods you can choose from to buy Coins; they are, however, also available as tradable good on the market place, and you may therefore be able to buy them from other players in exchange for the in-game currency potato dollars.
Our basic rule is: Coins activate additional content; you can always play for free!
Play state-of-the-art browser games for free!
Keep on rolling with our browser game portal!
Upjers games: play along for free
Browser games are online games, playable for free in your browser (e.g. Internet Explorer, Google Chrome, Mozilla Firefox etc.) and don't require downloads or installing. Bamberg-based game developers Upjers have been producing browser games since 2006.
All information on the topic "play for free"
News, useful information, tips and tricks on My Free Farm can be found on the game's forum.