Become a farmer in your web browser

My Free Farm – the farmer game
Sheep, cows, fish – experience all facets of the rural life in the varied browser game My Free Farm. Cultivate your fields, feed your chickens, trade your products on the in-game market place, and explore the towns of Mootown and Pondsville. Tons of fun is awaiting you!
---
My Free Farm
A farmer´s life as game concept
Gamers don't always look for fantasy or science fiction games. It´s the pursuit of down-to-earth goals that makes our game so popular.
Be a farmer
The dream of modern-day urban citizens to take on a farmer's role expresses the desire for rural life, and the urge to get back to nature.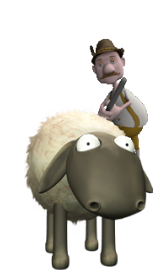 Back to nature!
My Free Farm offers virtual farmers a realistic range of natural products and animals to interact with. From apple to zucchini, from bee to sheep: the farm game reminds us of the fact that the products we find in our grocery store are produced don´t magically appear in the shelves, but are in fact the result of hard and down-to-earth labor.
Farmer games for gentle spirits
Here, gamers are able to create their very own rural retreat. Thanks to the freedom they have, when choosing where to place their buildings, as well as the many different decorations and furniture, all players are able to create their own individual style. One thing is for sure: neither alien invasions nor sorcery will threaten the idyllic day-to-day farm life of My Free Farm's players!
Find further free games on en.Upjers.com
A farmer game for nature lovers!
Grab your shovel and play – your farm is waiting!
Discover free Upjers games
Fun free-to-play browser games made Bamberg-based game developers Upjers: the company has been producing entertaining and colorful online games since 2006. Farm games and business simulations alike are amongst those games, all of which are playable for free.
Tips and tricks for the farmer game:
Visit the game forum for everything you need to know about the game.