A charming down-to-earth simulation

My Free Farm – Entertaining farm games
My Free Farm turns farming beginners to farm experts. From level to level, players are able to expand their farm a little further, tend to their animals, and plant vegetables. My Free Farm offers a truly inventive concept in an idyllic virtual setting.
---
My Free Farm
Trendy farm games
My Free Farm invites players to run their own farm. Inexperienced farmers take responsibility for a farm, fields, and animals.
Plow till the sun rises
Even new players already have a few basic ideas about farming. The concept of farm games is not fiction, after all!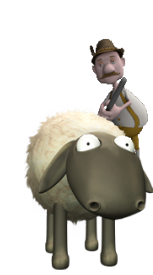 A totally wacky farm game
Of course My Free Farm doesn´t aim to be a realistic farm simulation. With all due respect for hard working farmers, My Free Farm adds a humorous and easy-going flavor to the genre of farm games. Still, players have roll up their sleeves before being able to sell their harvest on the market, even in a farm game. For that, your farm needs the right equipment.
Farm games create communities
Farm games are a bottomless source of fun. As players can run their farm as they like, and even end up owning several farms, My Free Farm quickly hooks its players. Every day, countless veterans and new players meet on the game.
For more information on the community, visit our portal!
New players ever day! The successful simulation continues to grow!
Are you a skilled famer? Find out in My Free Farm!
Discover Upjers-games
Playing is a basic human need. Even better, if the games you enjoy are free-to-play. Since 2006, Bamberg-based developers Upjers have been creating browser games – online games that are playable for free in any browser.Farm games rank among these online games.